Eggs have been utilized as human food for almost as ancient as mankind has been, and before humans, other birds and animals of prey ate eggs. It's most likely the only diet in the animal kingdom that promotes the development and the production of new life. The egg was created by nature to aid in the reproduction of the species; it's no surprise that it's one of the most complete meals available. [1]
Eggs consist of a protective eggshell, egg white (albumin), and egg yolk (vitellus) enclosed within thin membranes. Most commonly consumed are chicken eggs but there are other poultry eggs of duck and quail which are also consumed.
Eggs are commonly eaten food items that are obtained from female animals of different species including birds, reptiles, a few mammals, and fish.
Egg yolks and whole eggs have a significant amount of protein and choline. Whole eggs have high amounts of cholesterol as well hence the intake should be monitored as one large egg contains nearly 200-275 mg of cholesterol. [2,3]
READ MORE: Eat 10 Quality Foods To Lower Cholesterol Level
Eggs are eaten in various forms or recipes such as hard-boiled, sunny-side-up, fried eggs, scrambled eggs, omelets, etc.
Eggs are eaten as siders or starters before any main dish or along with a serving of alcohol. Generally, we see eggs being served as a snack item in bars, pubs, and cafes to just fulfill that little food craving before having a full meal. One such egg preparation that is served is pickled eggs.
Pickled Eggs
Pickled eggs are hard-boiled eggs that are preserved in vinegar or brine. Pickling is an ancient process of preserving the food so that it could be eaten after months later.
Since then, pickled eggs have become a favorite dish or a snack amongst all popular pubs and bars, and around the world in places where beer is served.
Eggs of any birds can be used for pickling such as chicken, duck, or quail. Eggs that are used for pickling should have clean and sound shells. The size of the eggs should be small to medium to help the flavor penetrate the egg. Fresh eggs are the best for pickling to meet the highest quality standards.
Preparation, Nutrition, and Flavor Of Pickled Eggs
In the preparation of pickled eggs, once the eggs are hard-boiled, the shell is removed, and the eggs are sunken into a solution of vinegar, salt, spices, and other seasonings. The solution of vinegar or brine can be sweet, sour, or spicy as per the personal choice. Recipes for pickled eggs can vary to some extent.
The ultimate taste and flavor are entirely determined by the pickling solution. The eggs are kept in this solution for hours to months. The longer the immersion, the richer is the flavor. Pickled eggs are a very low-maintenance food preparation. Pickled eggs can be high in fat, but one can remove the fat by removing the egg yolks.
The hard-boiled eggs cured in brine or vinegar surprisingly have a long shelf-life. Pickled eggs have a shelf-life of 3 to 4 months. The pickled eggs should be refrigerated in a glass or a plastic air-tight container. Avoid keeping the jar at room temperature so that it does not get spoilt. Vinegar in the pickling juice acts as a natural preservative and it is recommended to keep the hard-boiled eggs in this solution for a month until they are fully flavored.
Along with normal pickled eggs, there are other methods of preparations using beetroots while pickling. Beetroots give a nice red to pink color to the eggs and their appearance is just amazing and pretty looking with a sweet and sour taste.
Mixing hard-boiled eggs, beetroots, vinegar, and sugar as the basic ingredients the pickled eggs recipe turns out to be very healthy and each egg contains only 72 calories. Cholesterol can be of concern while eating normal eggs but eating one pickled egg per day should not offer any health concern for you.
Normal hard-boiled eggs have a sulfuric-like flavor or smell but pickling the sulfur stands down to a stronger but more pleasant vinegar punch. The evenly spread sweet, salty, and acidic taste makes it the most addictive high-protein snack.
One pickled egg without the yolk contains 27 calories which are just 1% of the daily recommended intake and makes it a suitable snack for weight loss. Pickled eggs without the egg yolk have minimum calories, as the yolk contains most of the calories in an egg.
ALSO READ: Best Time to Eat Peanut Butter: For Weight Loss/Gain, Per Day Consumption & Health Benefits
The protein content in each pickled egg with no yolk is 4gms of protein and these eggs are a good source of protein. Along with protein content, the pickled eggs without the yolk do not possess any fat and carbohydrate content. Such eggs are suitable for low-carbohydrate diets.
It is good to preserve pickled eggs in and around your pantry. But are they healthy for us?
Are Picked Eggs Healthy?
Pickled eggs without egg yolk are full of protein and healthy. However, the protein content covers only 1% of the daily value. Besides, pickled eggs with beet could improve the nutritional content.
Pickled Red Beet Eggs Offer Many Health Benefits:
Egg yolks and beetroots contain a rich amount of Lutein and Zeaxanthin which is important for eye health. Egg yolk contains 15–47% of lutein, but a very low content (0–3%) of zeaxanthin. However, the combination of both lutein and zeaxanthin may decrease the risk for age-related macular degeneration. [4]
Beetroots are rich in iron. Pickled eggs with beetroot can be a critical source of iron and protein. Iron is an essential component of red blood cells for the transport of oxygen around the body. Iron deficiency can occur to few people if iron content in the body decreases from an optimum level.
The red beetroot provides good digestive health and is important for detoxification, inflammation, endothelial and cognitive functioning, etc. [5]
They combat inflammation and help reduce blood pressure. Aids in weight loss only when eaten without the egg yolk.
Another thing that one needs to keep in mind while pickling the eggs is the preparation, handling, and storage. Home-made and canned or packed pickled eggs may present a greater risk of foodborne botulism than that of commercially prepared ones.
If the preparation and canning procedure is not proper there can be a presence of a toxin-producing named Clostridium botulinum which is a highly harmful bacterium. This bacterium produces neurotoxin and causes a rare but deadly paralytic illness known as Botulism.[6]
The Bottom Line
Pickled eggs are a healthy snack element ideal for potlucks, picnics, and side dishes at bars or pubs. You can have them as it is, or slice them up in a tuna salad sandwich, or mix them into a creamed soup. In every way, the pickled eggs taste the best. Consuming these tangy, sweet, sour, salty, and acidic flavored, pickled eggs packed with proteins can help you enjoy your dark winter days. The only thing that matters is its storage and shelf-life.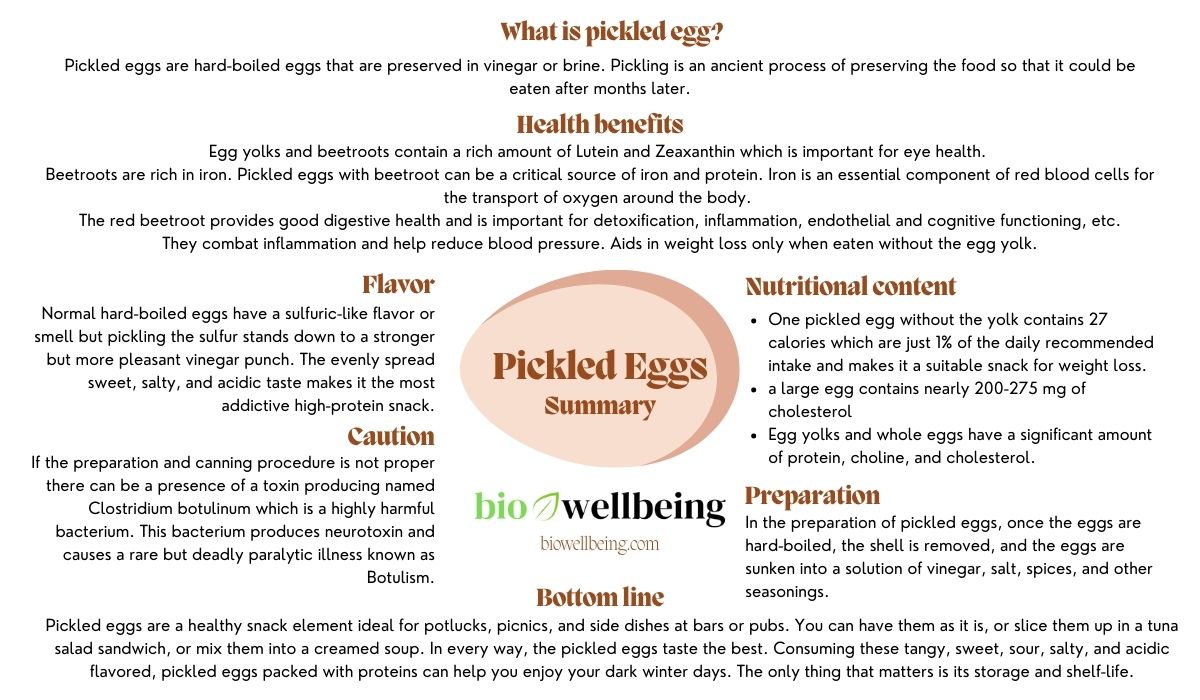 References:
D. V. Vadehra, K. R. Nath & Richard Forsythe (1973) Eggs as a source of protein, C R C Critical Reviews in Food Technology, 4:2, 193-309, DOI: 10.1080/10408397309527158
J. David Spence, David JA Jenkins, Jean Davignon, Dietary cholesterol and egg yolks: Not for patients at risk of vascular disease, Canadian Journal of Cardiology, Volume 26, Issue 9, 2010, Pages e336-e339, ISSN 0828-282X, https://doi.org/10.1016/S0828-282X(10)70456-6.
Blesso, C.N.; Fernandez, M.L. Dietary Cholesterol, Serum Lipids, and Heart Disease: Are Eggs Working for or Against You? Nutrients 2018, 10, 426. https://doi.org/10.3390/nu10040426
Sommerburg O, Keunen JEE, Bird AC, et al Fruits and vegetables that are sources for lutein and zeaxanthin: the macular pigment in human eyes British Journal of Ophthalmology 1998;82:907-910.
Clifford, T.; Howatson, G.; West, D.J.; Stevenson, E.J. The Potential Benefits of Red Beetroot Supplementation in Health and Disease. Nutrients 2015, 7, 2801-2822. https://doi.org/10.3390/nu7042801
Jessie Usaga, Oscar Acosta, Elizabeth K. Sullivan, Olga I. Padilla-Zakour, Chapter 38 – Pickling Eggs, Editor(s): Patricia Y. Hester, Egg Innovations and Strategies for Improvements, Academic Press, 2017, Pages 405-413, ISBN 9780128008799, https://doi.org/10.1016/B978-0-12-800879-9.00038-X.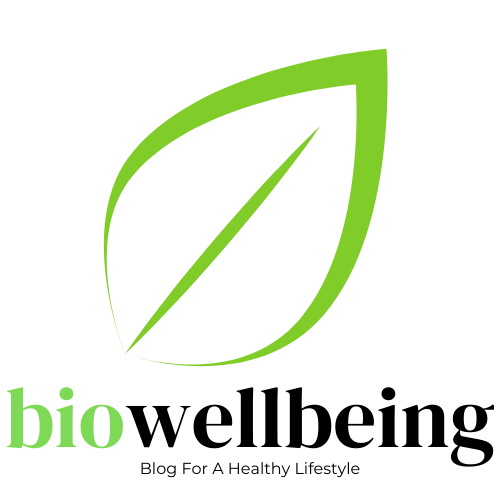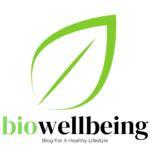 This is a team of Biotechnologist who are committed to keeping you healthy and provide the best re-researched pieces of information.